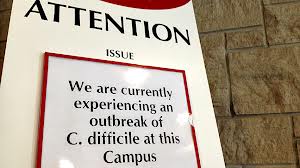 Norfolk General Hospital in Ontario, Canada, is currently battling a new health threat. Since September 1, five cases of hospital-related Clostridium Difficile (C. difficile), a difficult and persistent bacteria, have been documented at the full service hospital located on the southern coast of Ontario, near the shores of Lake Erie. Hospital staff and janitorial services cleaning crews are in the process of eradicating the bacteria and visitors are being asked to take special precautions in the meantime.
The United States Centers for Disease Control and Prevention report that C. difficile is one of the healthcare-associated infections that is on the rise. While receiving medical care, patients can catch this serious infection, which results in diahhrea that is responsible for approximately 14,000 U.S. deaths each year. Patients, particularly older adults, who take antibiotics are most at risk for this germ, which spreads through healthcare provider hands and contaminated surfaces.
Control measures being taken by Norfolk General Hospital include isolation of patients who have acquired C. difficile and increased cleaning throughout the hospital. Included in the cleaning products arsenal is a strengthened disinfectant, which will be used in the rooms of all C. difficile patients. Visitors must register with the nursing staff prior to seeing an isolated patient and must adhere to established infection control measures.
When visiting a patient in an isolation area, visitors are asked to avoid entering the hospital cafeteria, coffee kiosk, gift shop, and other areas frequented by many people. Before entering and after leaving the premises, visitors should practice good hygiene. Hand sanitizing stations are located throughout the hospital for use during visits. Norfolk General continues to release relevant information to patients, their families, and the local community as more details become available.
This is just one example of how proper cleaning and sanitization can help prevent health issues. Hospitals are breeding grounds for infections and everyone from patients to visitors can catch these. By making efforts to keep diseases from developing and spreading within a hospital, staff and janitorial workers can prevent outbreaks such as this.
Several years ago, Ontario established mandatory public reporting of hospital-acquired C. difficile cases by hospitals. Since that time, rates of the infection have dropped by more than one quarter. A focus on bacteria like C. difficile causes hospitals to discover new ways to reduce and even prevent the spread of related infections. This can save hundreds to thousands of lives each year.