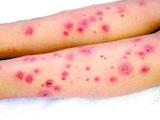 A new report released by the Agency for Healthcare Research and Quality reveals that severe skin infections among children are becoming one of the most common causes of hospitalization. In 2009, there were 9.4 cases of serious skin infections for every 10,000 children spending time in a hospital. This is an increase from 4.5 cases per 10,000 during 2000. During these nine years, skin infections moved from the number 13 to number seven most common reason children are hospitalized.
An increase in MRSA infections is mainly to blame. Most MRSA cases occur in hospitals, nursing homes, and other healthcare settings. However, an increasing number are being spread within the community through areas like gyms and school locker rooms. According to Dr. Patrick S. Romano of the University of California-Davis School of Medicine, community-acquired MRSA is the leading cause of soft tissue infections that require care in an emergency room or as an inpatient.
The increasing presence of MRSA makes it even more important for public areas to remain clean. Commercial cleaning services must keep staff updated on the most effective cleaning methods for areas prone to MRSA. Many commonly used disinfectants contain toxic ingredients that weaken the immune system, increasing vulnerability to infections. Substances like bleach should be diluted in water to form a ten percent solution in order to kill MRSA.
Safer cleaning products are available to clean environments prone to MRSA and these are just as effective. Cleaners remove germs, organic matter, dust, dirt, and soil. Disinfectants inactivate or destroy germs, preventing them from growing. Since they have no effect on soil, dust, or dirt, they should be used after a surface has been cleaned. PURE Hard Surface disinfectant is one low-toxicity product shown to be highly effective.
Most disinfectant cleaning products effective against staph are usually effective against MRSA. On the product label, manufacturers usually include the list of germs that the product  will destroy. Cleaning companies should only use products registered by the Environmental Protection Agency. After a MRSA infection occurs, surfaces that have a likelihood of contacting poorly covered or uncovered infections should be cleaned.
Overuse of antibiotics is partially responsible for the increased spread of superbugs like MRSA. In some studies, the more antibiotics children took, the higher the risk they had of receiving a MRSA diagnosis. Parents should consult with school administration regarding school-related MRSA risks. Commercial cleaning services should take all precautionary measures to prevent MRSA from occurring.