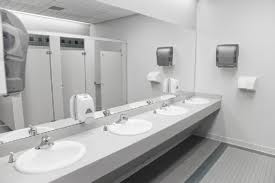 Next time corporate managers want to assess how much they value employees, they should head to the restroom. A recent hand washing survey conducted by commercial hand washing products manufacturer Bradley Corporation revealed that the restroom holds the key to employee value. The fourth annual Healthy Hand Washing Survey revealed that 83 percent of Americans think that the condition of workplace restrooms are indicators of how much their company values them. So you should always check your restrooms to determine employee value.
Fortunately, 66 percent of employees reported that the restrooms at their workplaces were in very good or excellent condition. On the downside, one-third reported experiencing situations such as unflushed or clogged toilets, jammed or empty toilet paper or paper towel dispensers, and unpleasant odors. Employers should take note and inform their janitorial services to do a better job or face replacement.
Employees also play a role in keeping restrooms clean. They should flush toilets after use, discard paper towels and other refuse in receptacles, and keep the sink area clean. Employees can limit the spread of bacteria and germs by washing their hands after using the restroom. According to the survey, which sampled 1,053 American adults, Americans wash their hands up to 90 percent of the time following use of public restrooms. This is an increase from the 87 percent figure reported in the 2009 survey.
Parents are making a point to discuss good bathroom habits including hand washing with their children as part of preparation for the new school year. Eighty-nine percent of parents planned to discuss hand washing with their children as part of back-to-school preparation, an increase from the 2010 result of 83 percent. This should help keep schools in Manhattan and other cities throughout the country cleaner, resulting in fewer absences.
When respondents were asked which public restroom surfaces they most dislike touching, door handles of bathroom stalls, entrance doors to restrooms, and faucet handles were their answers. For 91 percent of respondents, an unclean restroom leads to a negative impression of a business. This statistic should be enough for business owners to make sure their restroom cleaning practices are up to par.
Flu season is upon us so now is the perfect time to review the condition of restrooms in businesses and schools. The best cleaning services keep restrooms sparkling and sanitized throughout the day. With employees and students doing their part by washing hands and practicing other good restroom habits, this year should be a healthy one.