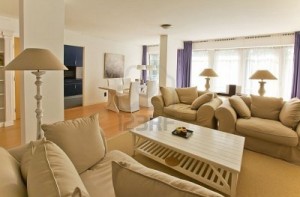 Every year, millions of people move out of their apartments and into new residences. Looking for a place to live, packing belongings, and getting help with moving take up most of their time. Cleaning the current apartment is far down on the priority list. However, it is important because leaving the apartment dirty can result in forfeiture of the security deposit.
Whether they do not have time, do not want to do it, or simply forget, many apartment dwellers have professional cleaning services clean their residence before they depart. This leaves them more time to focus on packing and moving their belongings. Using an experienced cleaning company ensures that the apartment will be sparkling clean when the keys are returned to the landlord.
Good cleaners establish a cleaning schedule and stick to it. Apartment cleaning usually takes just a few hours and the company schedules this so the individual can move out on the desired date, avoiding a month-to-month lease. All the surfaces and appliances are cleaned, including cabinets in the kitchen and bathroom. Blinds, vents, and light fixtures are dusted and the interior walls are wiped. Even closets are dusted and cleaned so the new occupant can store items in them immediately upon moving into the apartment.
As part of the move out process, these cleaning services also do a thorough carpet cleaning. They vacuum carpets and then shampoo them to remove set-in dirt and stains. Hard floors are washed, including those in the bathroom, where debris is especially prone to accumulate. Mirrors and the interior of the apartment windows are cleaned to remove spots and dirt. When cleaning windows, workers even check beneath the frames for any indication of mold and alert the tenant of an issue.
If the apartment contains a private entryway, workers do floor and carpet cleaning there and remove any cobwebs. Once the living areas are clean and the bathroom is disinfected, trash is bagged and discarded. The apartment looks as tidy as it did when the individual moved in and the landlord will not hesitate to return the security deposit.
Anyone who does not have time to clean an apartment before vacating it should consider this alternative. What may initially seem like a stretch of the budget is much less expensive than losing the security deposit. Leaving the apartment clean upon move out also keeps the door open to renting from the landlord again in the future.