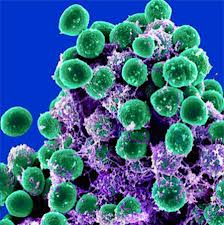 Once upon a time, dangerous bacteria called superbugs began appearing in healthcare facilities around the world, causing healthcare-associated infections. Today, these superbugs have invaded public spaces and the resulting infections are now dubbed community-acquired. No matter where they work, cleaning professionals must be prepared to deal with these bacteria and facility managers must review their infection control practices.
Facility managers used to give little attention to crevices and cracks. They considered their buildings safe from germs that lived in healthcare facilities. Superbugs are no longer confined to hospitals and other healthcare facilities so building managers must prepare themselves to prevent infection of occupants, visitors, and staff. Medical experts say that any place where a large group of people interacts and shares items is at risk.
When developing and implementing a comprehensive, effective program to prevent infections, facility managers should look to the healthcare sector. They should also consult with commercial cleaning services that have been battling these superbugs for years. Restaurants, office buildings, athletic clubs, lodging facilities, and schools in Manhattan and throughout the country can learn from what the healthcare sector experiences.
Bacteria and germs have no problem spreading and when large groups of people interact, superbugs take advantage of the additional opportunities to spread themselves from person to person. Colds, flu, and norovirus are being joined by superbugs, infecting settings that were previously considered safe. Non-healthcare facilities must establish policies and procedures for hand and environmental hygiene. They should go as far as identifying people who are ill and preventing them from interacting with others.
A good infection prevention plan includes general hygiene procedures for common areas, a policy focusing on employee illness, and an epidemic and pandemic mitigation plan. Focus of this plan should be protecting employees from illness while establishing procedures for continuing services during situations of widespread infection. Facility managers should work with cleaning professionals to develop infection prevention plans and review these often to ensure that processes and procedures remain applicable.
Anyone in contact with a superbug found in a healthcare setting can carry these bacteria to a different location such as a fitness center, school, or office building. Once the bacteria are redeposited, they can infect people who come in contact with them. Cleaning professionals and facility managers must work together to prevent superbugs from spreading. This requires regular disinfection of frequently-touched items using EPA-registered products designed to kill superbugs and a plan to prevent and deal with an infection outbreak.