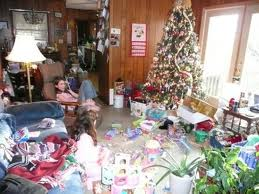 You enjoy spending time with family and friends during Christmas, but do you really enjoy the extra housecleaning that is required to entertain them? Georgia-Pacific recently commissioned StrategyOne to conduct a cleaning survey. Female respondents reported that hosting a Christmas gathering can almost triple their weekly household cleaning time. Women already report spending nearly two hours per week to clean the house. Hosting a holiday gathering can add nearly four hours to this.
Respondents reported spending about two hours cleaning prior to a Christmas get-together. After the festivities ended, they were cleaning up for another hour and a half, while everyone else slept off their turkey coma on the couch. Fifty-three percent of women considered Christmas, with its wrapping paper and food, to be the messiest holiday. Thanksgiving came in a distant second, with 32.5 percent of respondents saying it created the most mess.
Regardless of the time of year, paper towels and dishwashing liquid were the top cleaning tools used in the kitchen. Far from being annoyed by the extra time spent on kitchen, living area, and carpet cleaning, stay at home moms take pride in a clean home. Working Mother magazine reported that moms who stay at home feel most judged by the cleanliness of their homes.
Of the women responding to the Georgia-Pacific survey, 84 percent said their homes are typically moderately to extremely clean, with 83 percent claiming that others would agree. An interesting statistic is that two-thirds of the women reported wanting help with cleaning. Assistance with dusting, scrubbing, and carpet cleaning was more desired than help with cooking, laundry, or even babysitting.
Despite their cries for help, only one-third of women receive assistance with household cleaning tasks. A spouse or significant other is most likely to help these women with cleaning, with children coming in second. Some women throw in the towel, literally, and call professional cleaning services to do the work. This gives them more time to focus on other household tasks and enjoy activities with family and friends.
By using professional cleaning services, women avoid the tasks they reported were least enjoyable. Included on this list were: toilet cleaning, mopping floors, scrubbing showers, cleaning windows, and dusting. The respondents can continue to rely on a family member to take out the trash and sometimes cook, while they clean up after pets, which they reported was more difficult than cleaning up after a child.